About us
Welcome !
VinaTap Vietnam Company would like to send greetings and best wishes to you.
Contact : Whatsapp : +84 888 888 609 , Mail : vinatap@gmail.com ; Wechat: +84 912 100 118
VinaTap Vietnam Company is the leading manufacturer of Coir - Cocopeat in Vietnam. Factory area is 16,000m2 with 3,000m2 of factory, 4,300m2 of greenhouse for drying products.
VinaTap is produced from the stage of crushing coconut shells - sieving - sorting - washing - sun drying or drying - pressing coco peat blocks.
VinaTap's production line produces 30 tons of pressed coco peat and 20 tons of baled coir every day. The automatic production stages 80-90% are machines, humans only control the operation. We are always changing to improve the quality of life and working environment of production workers.
Our products have been exported to many countries such as: Australia, the United States, Taiwan, the Netherlands, Japan, Korea, China...
With the motto: Creating the highest quality Products - Bringing the best benefits to customers - Efforts to expand production capacity to meet the requirements of customers.
We are always looking for partners to import Vietnamese products to your country.
We are committed to providing our best support, honesty, objectivity and fastest implementation of Customer's requests.
Contact: vinatap@gmail.com or Whatsaap, Zalo, Viber, Wechat: +84888 888 609; +84835 881 888 ; +84 912 100 118
COCO PEAT VINATAP 50L/13GL
VinaTap Vietnam Company is a coconut processing manufacturer in Vietnam. Main products include: CocoPeat, CocoFiber and biochar, rice husk charcoal for agriculture and metallurgy. The factory professionally produces according to the quality management system ISO 9001:2015 and certified by SGS Vietnam. We have exported CocoPeat and CocoFiber to many countries around the world such as: Taiwan, China, singapore, Australia, Korea, Japan, Arabia, dubai, Netherlands, USA.... Products of VinaTap Vietnam meets the required quality requirements. We always listen and meet the needs of customers around the world. We are very pleased to welcome you to visit Vietnam and our factory.
Raw materials for production of VinaTap Vietnam are purchased from organic coconut growing areas of Vietnam, protected and certified by the Vietnamese government. Therefore, VinaTap's Cocopeat, coco fiber, rice husk, rice husk chacoal products are 100% organic, free of chemical residues, heavy metals...and have been fumigated and quarantined. selling to the market. Using products of VinaTap made in Vietnam with high quality, cleaner and safer than products from India, Srilanka, Indo, Thailand... VinaTap is committed to quality and ready to send product samples products for partners to check before ordering. Sale Contact : +84888888609
Contact: Email: vinatap@gmail.com; Whatsapp : +84888888609 ; Wechat : +84912100118
Cocopeat is a co-product of coconut fiber extraction process. It is a non-fibrous, spongy, lightweight and corky material that holds together the coir fiber in coconut husk. Depending on the electrical conductivity, our cocopeat is available in High EC and Low EC.
Cocopeat vinatap
High EC Cocopeat (unwashed) is commonly used in animal bedding farms due to its superior ability to absorb moisture and soft-bed cushioning properties. Our high EC cocopeat is free from fine dust particles and easy to lay and remove. It is also sterilized to prevent molds, pathogens and bad odor due to long term use. High EC Cocopeat has a relatively high salt content and hence it is not suitable to be used as growing mediums.
Coco brick VinaTap
Low EC Cocopeat (washed) is highly considered an ideal, multi-purpose growing medium in horticulture and floriculture due to its natural rooting hormones, antifungal properties and low salt content. It is an excellent alternative to traditional peat moss and rock wool not only because it is very easy to use and inherits all the characteristics of high quality growing mediums that can be used in a wide range of plants, but also 100% organic, renewable and produced without causing any environmental damage. Our low EC cocopeat is first sieved, washed, dried and finally compressed into blocks. Once expanded, one kilogram of compressed cocopeat is equivalent to 15 liters of moist cocopeat.
FUMI and PHYTO coco VinaTap
coco coir, bulk coconut coir, coir peat blocks, bulk coco peat, coco peat, coco peat blocks, coconut husk fiber, coco poles, coconut coir bulk near me, coco peat brick, coco coir seed, coco peat pellets, coco peat organic, coco peat disc, coco huks chip, coco husk, coco, growing media, plant a tree, coconut fiber substrate, nursery media, sow seeds, grow vegetable, growing flowers, growing cannabis, growing strawberries, growing hydroponically, growing soil
SPECIFICATIONS
COCOPEAT BLOCK
Material: 100% coconut husks; no additives or artificial chemicals
Color: Brown
Drying: Sun dried
Fibre Content: 2%
Poor content: 3%
Moisture: 10-15%
EC: < 0.5mS/cm for low EC, > 0.8mS/cm for high EC
pH: 5.5 - 6.8
Block Dimensions: 30 x 30 x 11 cm (11.8" x 11.8" x 4.3")
Block Weight: 5 kg (11 lb)
Compression Ratio: 5:1
Expansion: 70 - 80 L
PACKING
Pallet with stretch wrap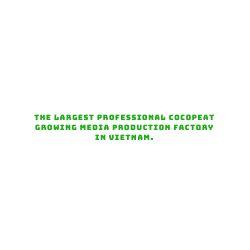 Coco peat Block 5kg VinaTap
COCOPEAT POLYBAG
Material: 100% coconut husks; no additives or artificial chemicals
Color: Brown
Drying: Sun dried
Fibre Content: 2%
Poor content: 3%
Moisture: 30-40%
EC: < 0.5mS/cm for low EC, > 0.8mS/cm for high EC
pH: 5.5 - 6.8
Block Dimensions: 30 x 30 x 13 cm (11.8" x 11.8" x 5.9")
Block Weight: 30 kg (66 lb)
Compression Ratio: 2:1
Expansion: 200 L/bag
PACKING
Pallet with stretch wrap
Coco 200L VinaTap